~ Sunday, July 13, 2003
The conferences that we've been working towards for almost a year, officially start this Wednesday, but the speakers begin arriving today. The fun thing is that they are all friends and so we really look forward to having them here. This afternoon we pick up, Félix Ortiz, a Spaniard from Barcelona who is the author of around 30 books on youth work. He's a blast and will be staying at our home until the conference begins. I'm sure, if he's up to it, we'll be taking him to our favorite taco place for dinner.

Yesterday we went into Mexico City to meet with, Rosidalia Vargas, the Costa Rican (not Puerto Rican) director of the youth leadership training movement which we are a part of... and Tuesday morning we'll be picking up Gerardo and Adriana Muniello, an Argentinean couple who are specialist in leadership development. We stayed at their home last year in Buenos Aires, when we were there for meetings and to participate as speakers at a youth ministry congress. They were wonderful hosts, who besides being great story tellers, treated us to the best pizza I've ever had in my life. We look forward to returning the favor :-)

Wednesday, Alex Chiang arrives. He's a self-taught genius with a focus on Latin American youth... a specialist on contemporary society and it's impact on youth, he's possible the best speaker I've ever heard.

A giant "Thank You" to all of you who helped make this a possibility thru your financial donations and prayers. This is going to be great!
~ posted by tim at 7/13/2003 10:44:24 AM
~ Monday, July 07, 2003
Click on the link below to see photos of what we did yesterday :-)

free stock photo with new photos from tim 'n annette (aka: mexikids)

It had been raining all week, but on Sunday afternoon the skies cleared up for a few hours so we took off for the hills to hike and take some pictures. It was beautiful.
~ posted by tim at 7/7/2003 07:45:15 PM
~ Saturday, July 05, 2003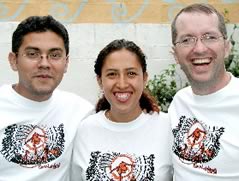 Barush, Nelly and me wearing the T-shirt... still warm from the printers.
~ posted by tim at 7/5/2003 08:41:57 PM
~ Wednesday, July 02, 2003
I can't wait to get our "prize" t-shirts back from the t-shirt guys! As you can read about down below, we had a big ole' competition on our web site and some of the winners get ParaLideres.org (the web site) t-shirts specially designed just for this competition. Benjamin, our web animator, did created the design and it looks great (click on graphic for a larger version)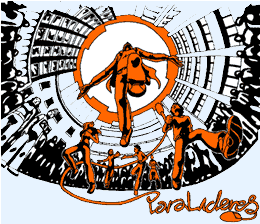 I'll get a shot of Annette or me in one of the shirts when they're done.
~ posted by tim at 7/2/2003 02:40:16 PM